For the very first time our company has participated as expositor in this outstanding Fair.
The results have been excellent considering both the new customers that we have got and business that we have developed.
So we are full determined to be back in the next edition!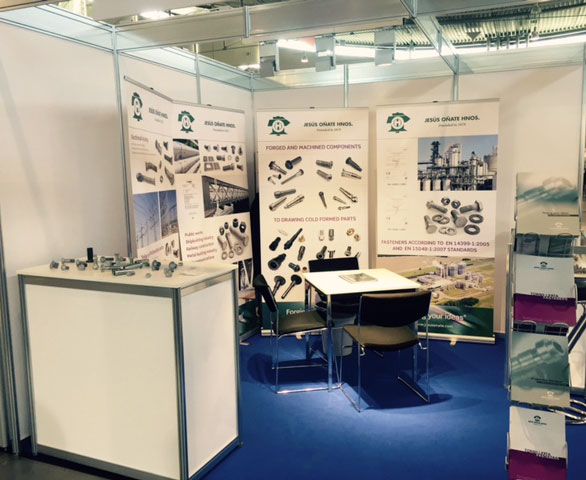 The event had more than eleven thousand visitors from over 91 countries in attendance
The fastener and fixing companies met on the 28th, 29th and 30th of March on the Stuttgart Fastener Fair with the objective of creating a space for the development of future commercial relations and develop new lines of business to reach a viable future. It was with this objective in mind that a total of 11.709 people from 92 countries met on the last days of March to take part in a fair that has been noted for its growth and the noticeable increase in participants and businesses compared to previous editions.
The increase in square meters of space dedicated to the fair has led to the organizers seeing a growth of 11% in comparison with the 2015 edition and it has served to house 895 exhibitors from 46 different countries from both the European Union and other major business locations. This has led to both participant companies and both national and foreign visitors finding a much more complete and varied fair than in the editions of years past.
This year's edition has once again been notable for the strong international presence of participants from all over the world who have had the chance to receive and share information about diverse aspects of the profession such as industrial fasteners and fixers, building fasteners, building and installation systems, fastener manufacturing technology, warehousing, distribution and factory equipment, and also communication and services.
A wide range of options that has fostered each client having the chance to adapt to the most urgent needs of their business. It is important to note that the sector with the most growth in terms of visitors has been constructions with record-breaking representation numbers compared to editions of previous years.
Germany has been the country with the greatest number of visitors in attendance, closely followed by the UK and Italy. Other European countries also had a noticeable presence, such as France, Poland , the Netherlands and Spain, which met with the set requirement for 2017 showing the rest of competitors and partners the most notable innovations and developments. Among Asian countries, the ones with the biggest representation were Taiwan and China.